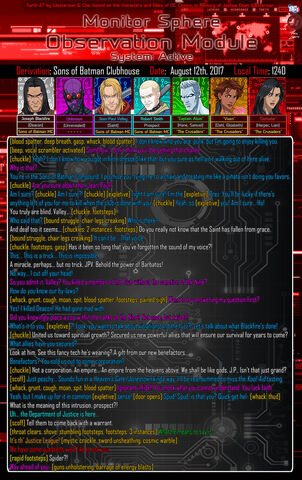 Characters
Edit
Location
Edit
August 12th 2017, 1240 Local Time
VOX Archive
Edit
Coming Soon...
Trivia and Notes
Edit
Story continues from ObMod: Family Secrets 6.
Story continues in ObMod: Family Secrets 8.
This story takes places simultaneously with Oracle Files: Jade Nguyen 2.
Blackfire was killed and resurrected in ObMod: Beyond Crisis 3 and ObMod: Beyond Crisis 4, respectively.
The "Nine" are the Inner Circle of the Sons of Batman (The Prez, VP, Road Chaplain, Treasure, Keeper, Sgt. At Arms, Scourge, and Secretary).
Jean-Paul Valley placed a cop within the rank of the Nine, two times, the first time making Catalina Flores the Scourge, and the second time dressing Michael Lane as Azrael.
The new allies that Blackfire got can be seen in ObMod: A New Horizon 23.
Links and References
Edit